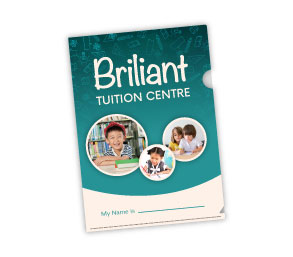 L Shape Plastic Folder
Enhance organization with customized L shape plastic folder printing. Elevate your branding, keep documents protected, and make a lasting impression. Printed L shape plastic folders offer numerous advantages including showcase your brand identity, leaving a lasting impression on clients and partners. L shape plastic folder also allow a personalized touch enhances the professional image you present to clients, demonstrating attention to detail.
Also, custom folders provide a concise platform to deliver important materials during meetings, presentations, and seminars. More, tailored designs allow for creative freedom, capturing your brand's essence and differentiating your materials from the competition.

Delivery Fee
1) Business Cards / Rubber Stamp / Stickers : $8/trip
2) Others ie Flyers, Letterheads, Envelopes...: $15/trip



L Shape Plastic Folder Material & Specification

Artwork Specification

COLOUR - CMYK colour mode, total CMYK not over 240%.

LINE - Not less than 0.25points

IMAGES - Resolution not less than 300dpi.

TEXT - No font less than 4points.